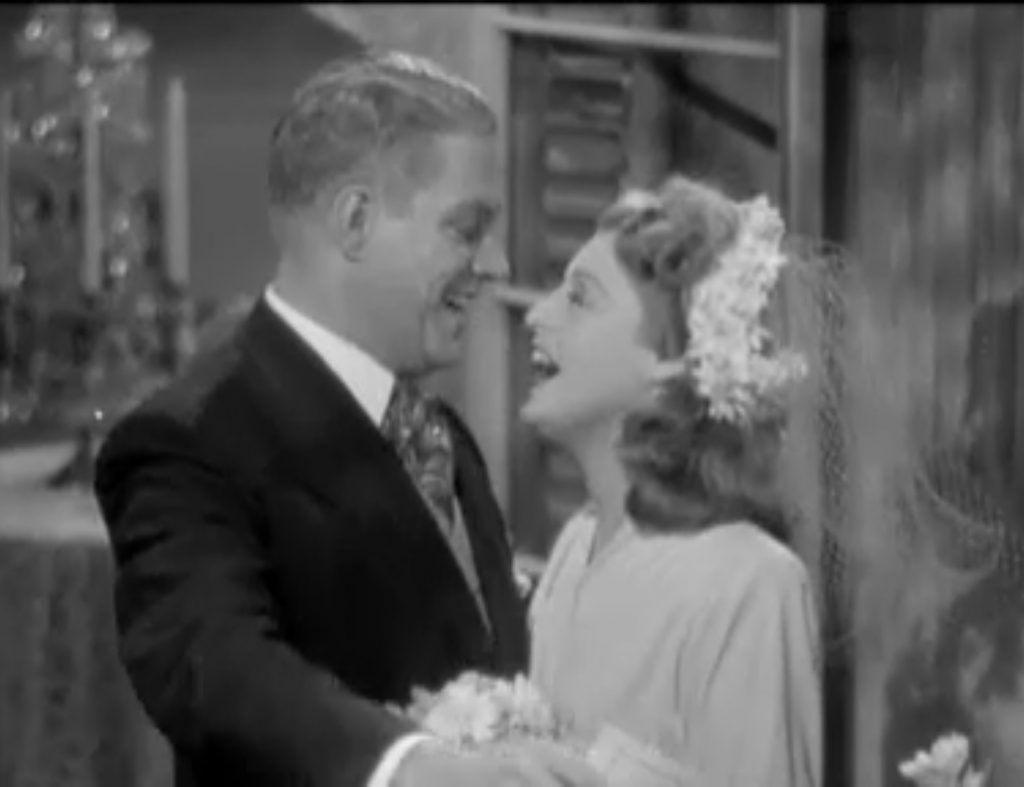 I Married An Angel was the final Jeanette MacDonald-Nelson Eddy film together. Released in July 1942, the surreal comedy/musical wasn't understood by audiences or critics. It's one of those films like Vertigo or It's a Wonderful Life that found its audience years after being considered a failure. Today, some fans claim it as their favorite teaming because the two stars are so relaxed and natural. As with Sweethearts, made three years earlier, they play a married couple. This time, it's not just Nelson beaming "like a headlight" and fawning over her. There are moments in Angel where Jeanette gazes at Nelson with a soulful look that's out of character for the role. Like this candid on the set or the screenshot below: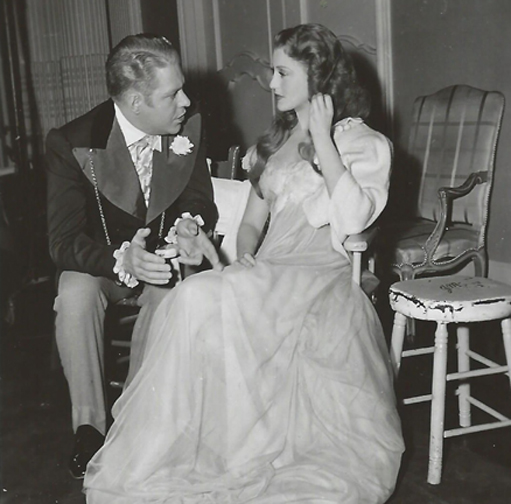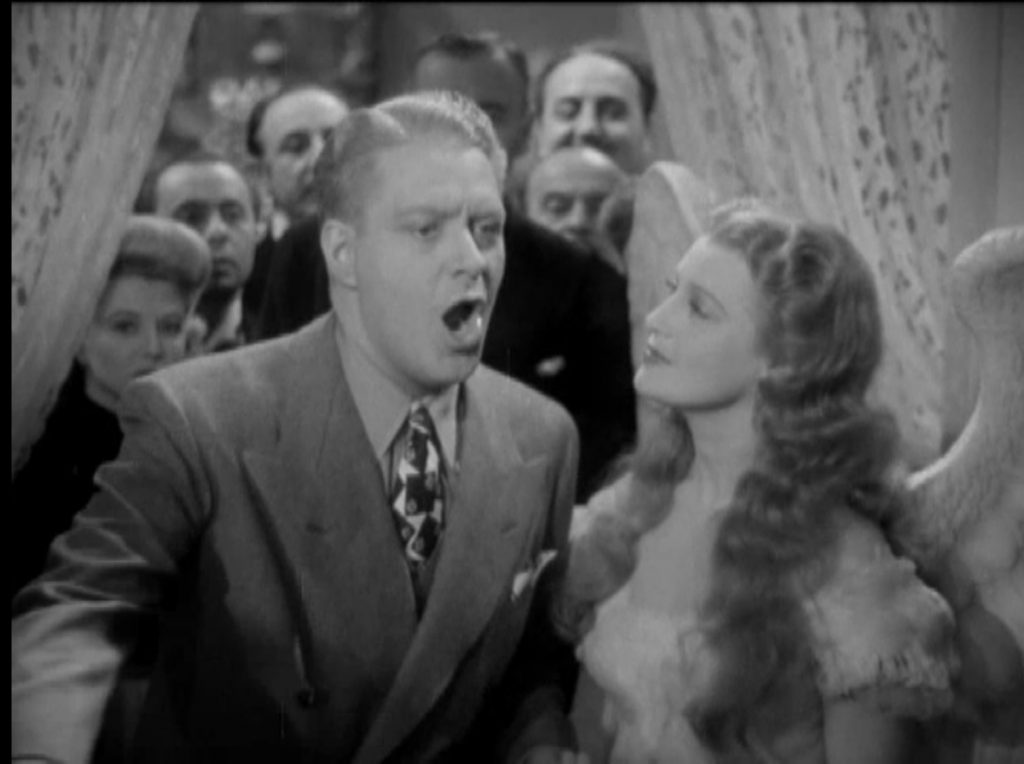 Or this one, with their director Woody Van Dyke. Nelson's listening to Woody while Jeanette's attention is on Nelson: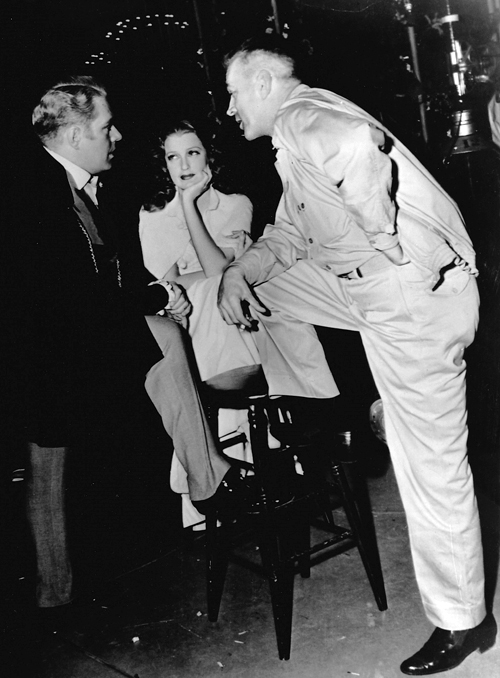 Woody was billed as Major W.S. Van Dyke II. A proud Marine, he was already terminally ill and died about 8 months after Angel was released. Woody replaced the film's original director, Roy Del Ruth, Del Ruth had just directed Nelson in The Chocolate Soldier, in which Nelson gave what many believed to be his finest acting performance. But early on, Angel was perceived to be a disaster and "One-Take Woody", was called in to salvage it. Even so, Angel was MGM's least successful film of 1942.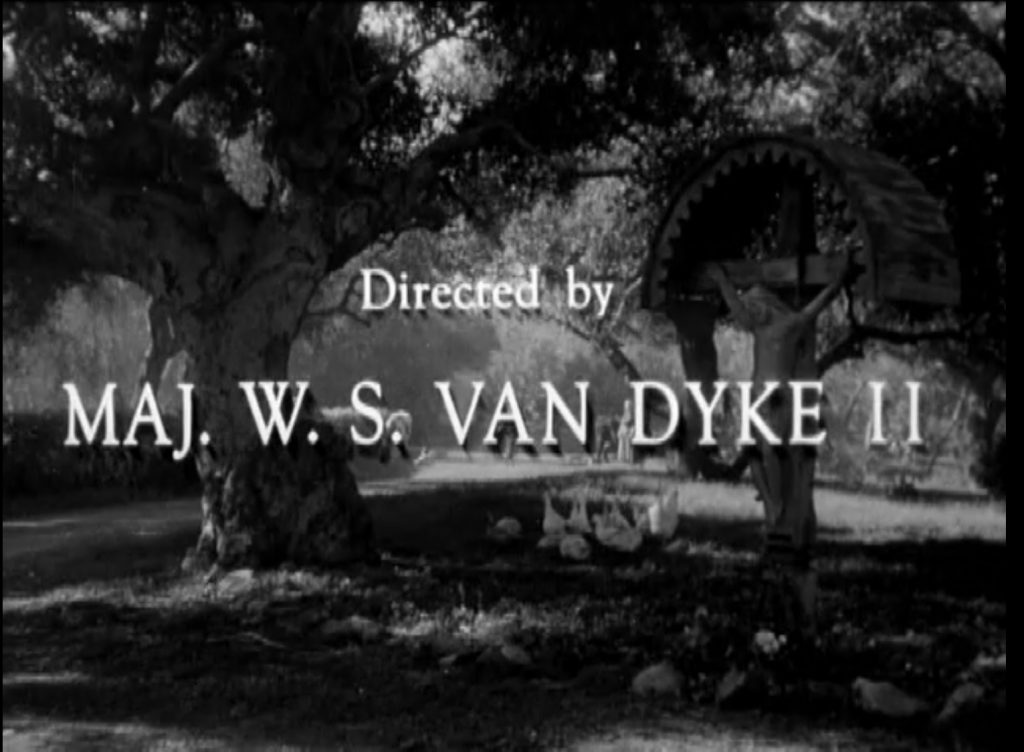 Actually Angel was originally a play that became a Broadway musical in 1938. The project was bought for Jeanette in 1933 and was supposed to introduce that new guy, a young singer named Nelson Eddy, when they both first signed with MGM! This was pre-code and so the "naughty" story of an angel losing her wings after a blissful night in the marital bed wasn't a problem.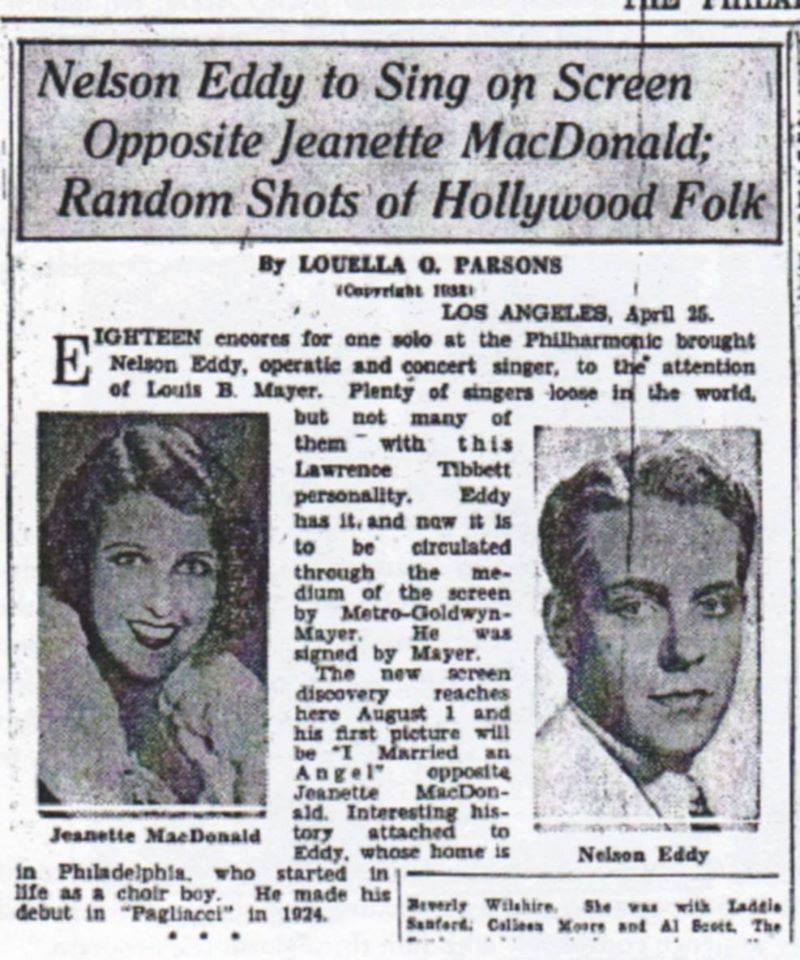 Note in Louella's article above, she's incorrect about Nelson's opera debut; his singing debut was at age 20, his first Aida was in May 1923. And obviously, Angel didn't happen in 1933. Instead, Nelson waited around doing walk-ons until his first real break with Naughty Marietta. (And that movie was R-rated because Nelson takes Jeanette to stay in the "red light district" – horrors!!)

It wasn't until 1941 when Angel began production and Anita Loos, who had authored the fabulous San Francisco screenplay, hated this script, was totally over the two stars and couldn't stand them, period.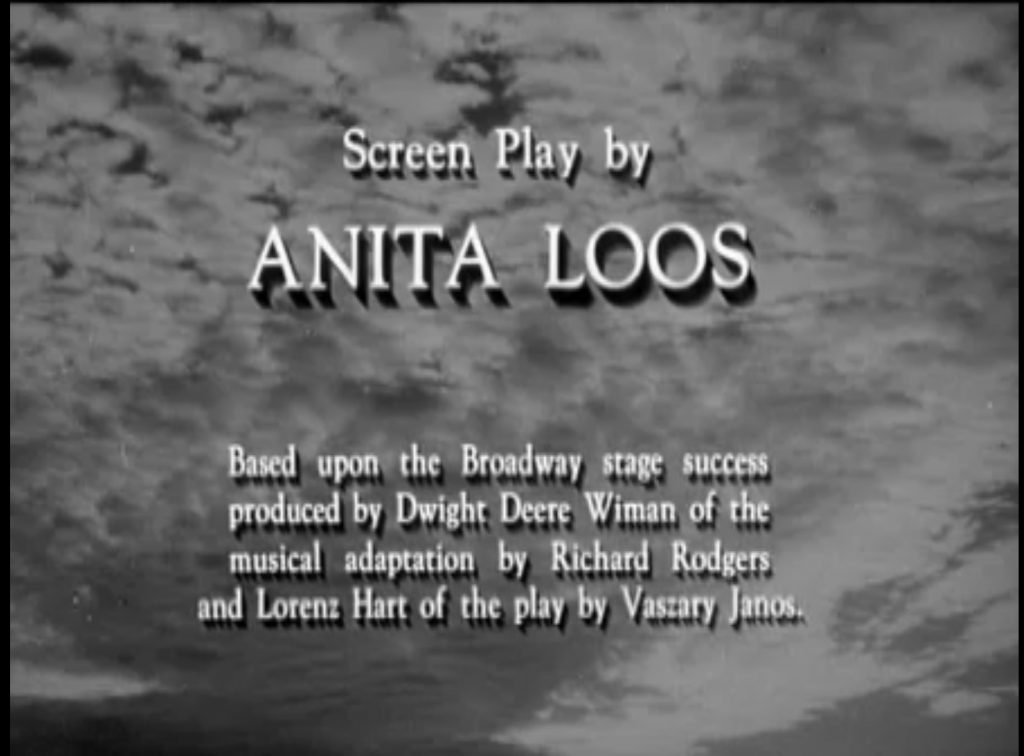 It's apparent from scene and set stills that much was cut from the final print, such as a subplot which includes a brood of children, seen here with Jeanette wearing a wig only worn during the outtake sequences..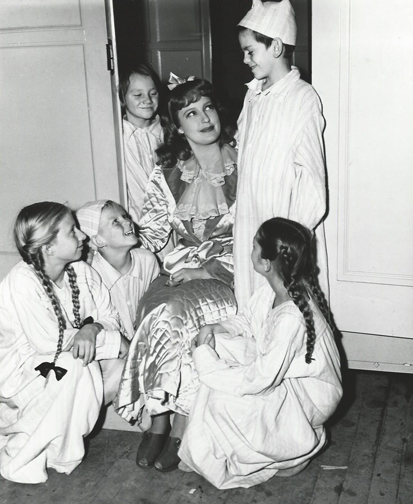 A scene cut from the film.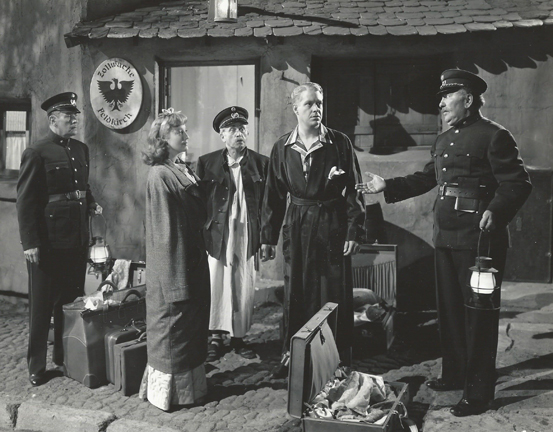 2:00 Now to the film itself. As Jeanette walks into the bank, note the paintings on the wall. Nelson contributed a lot of art to this film and was said to have painted these portraits of his "forefathers".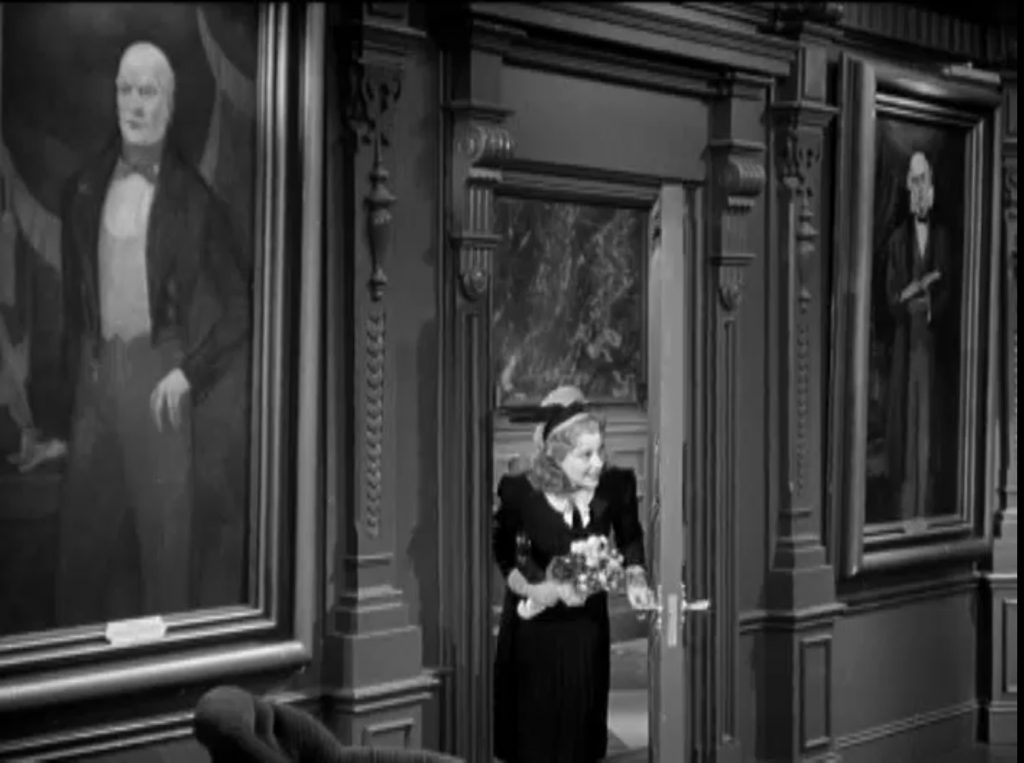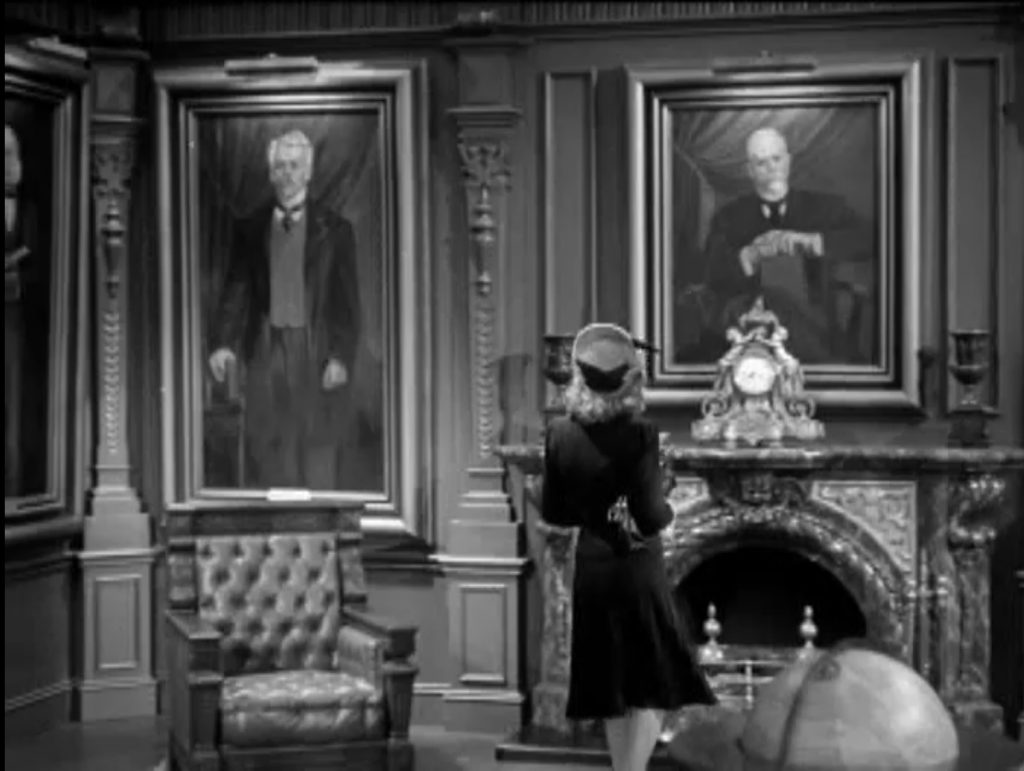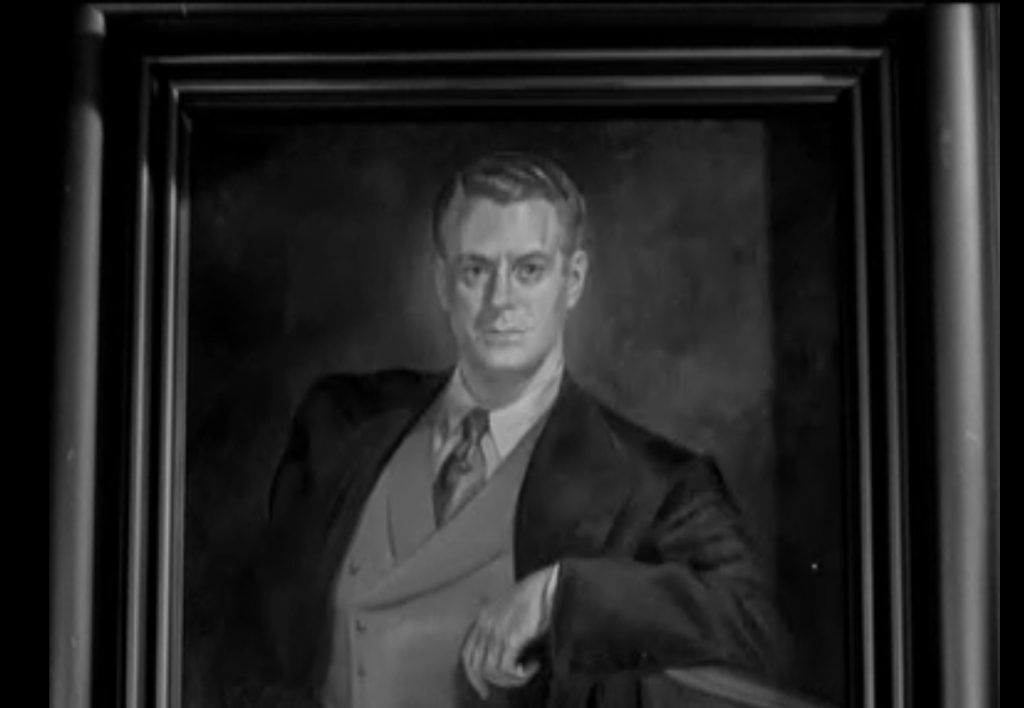 4:00 We see a bust of Nelson on display in the bank. This was Nelson's own sculpture.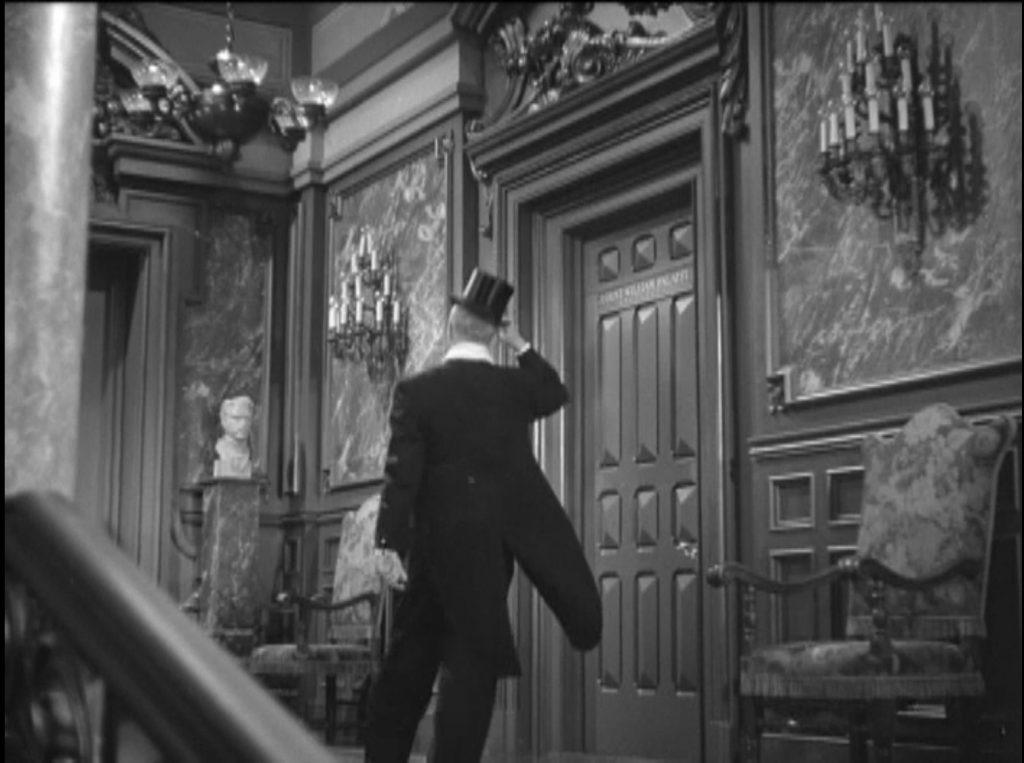 7:00 And when Nelson leaves the bank, we see a different shot of two busts.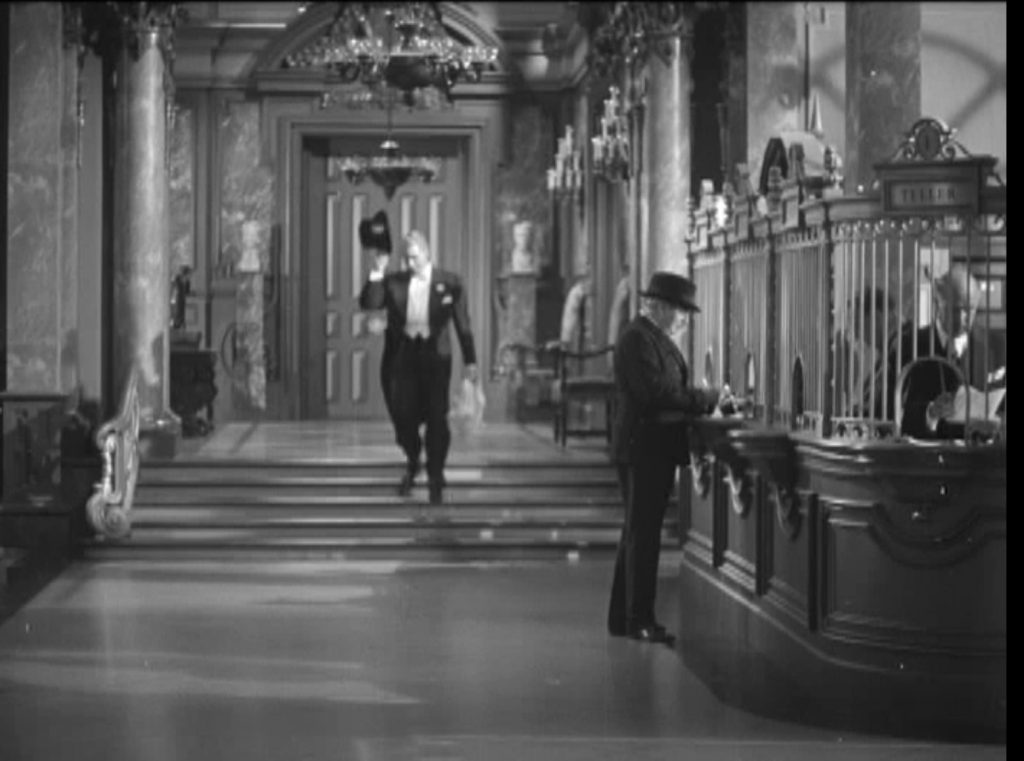 14:00: One of the most delightful moments of the film is right here. Jeanette, wearing a homemade angel costume, is shy and has to muster the courage to give her boss Nelson a birthday kiss. When she finally goes for it, Nelson crossed his eyes at her and she cracks up, completely breaking character. Thank you, Woody Van Dyke, for leaving it in the film.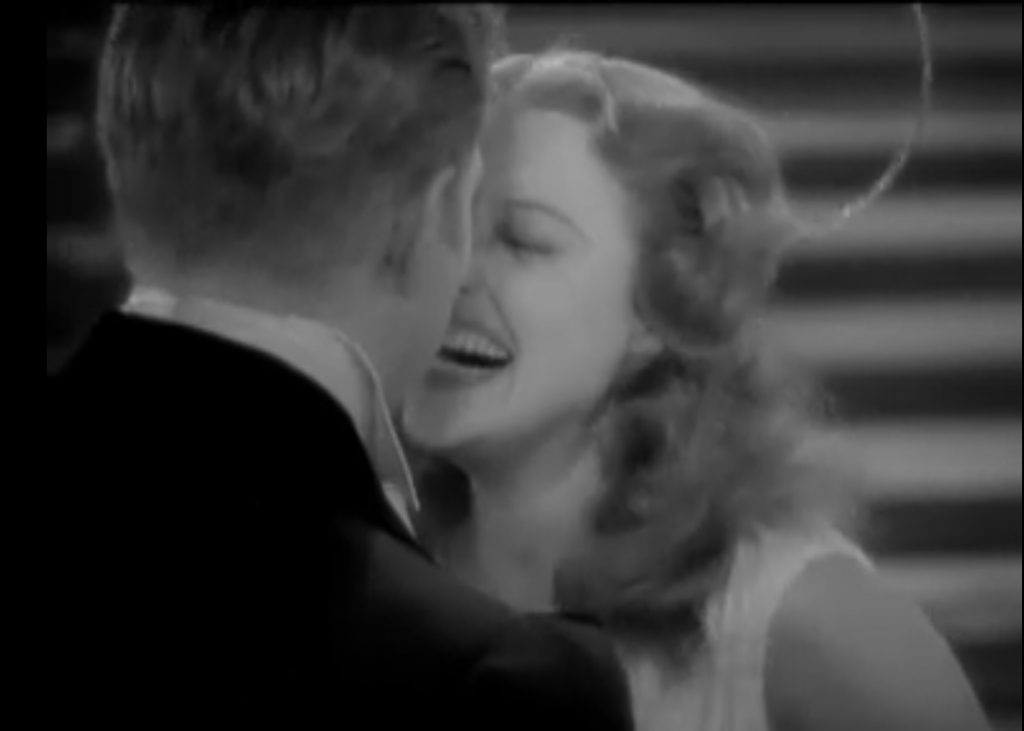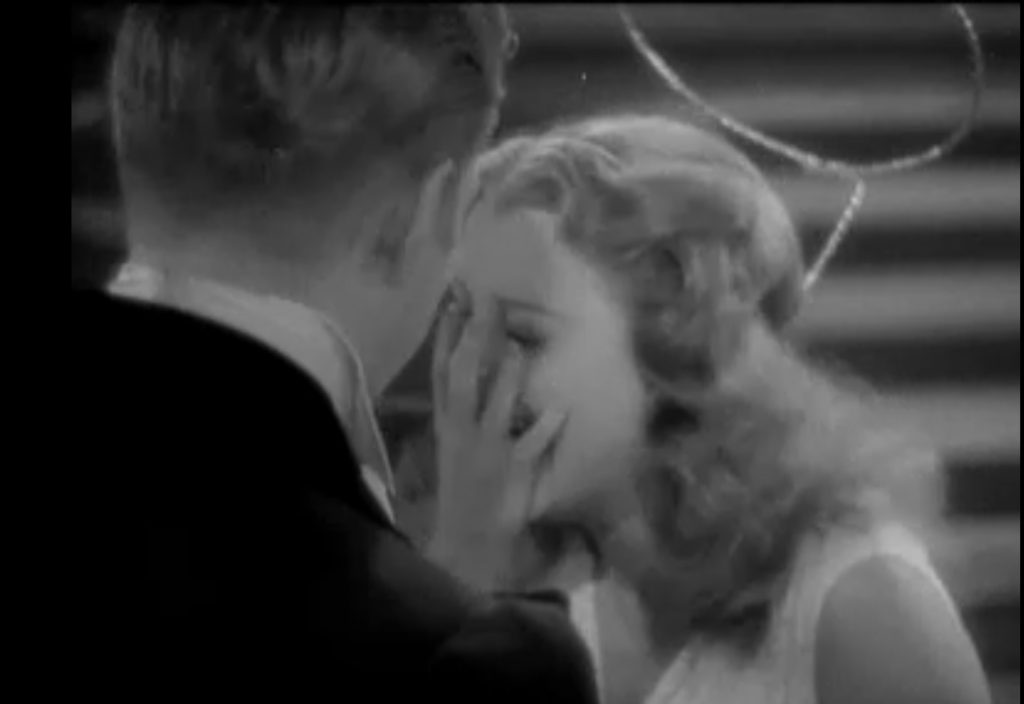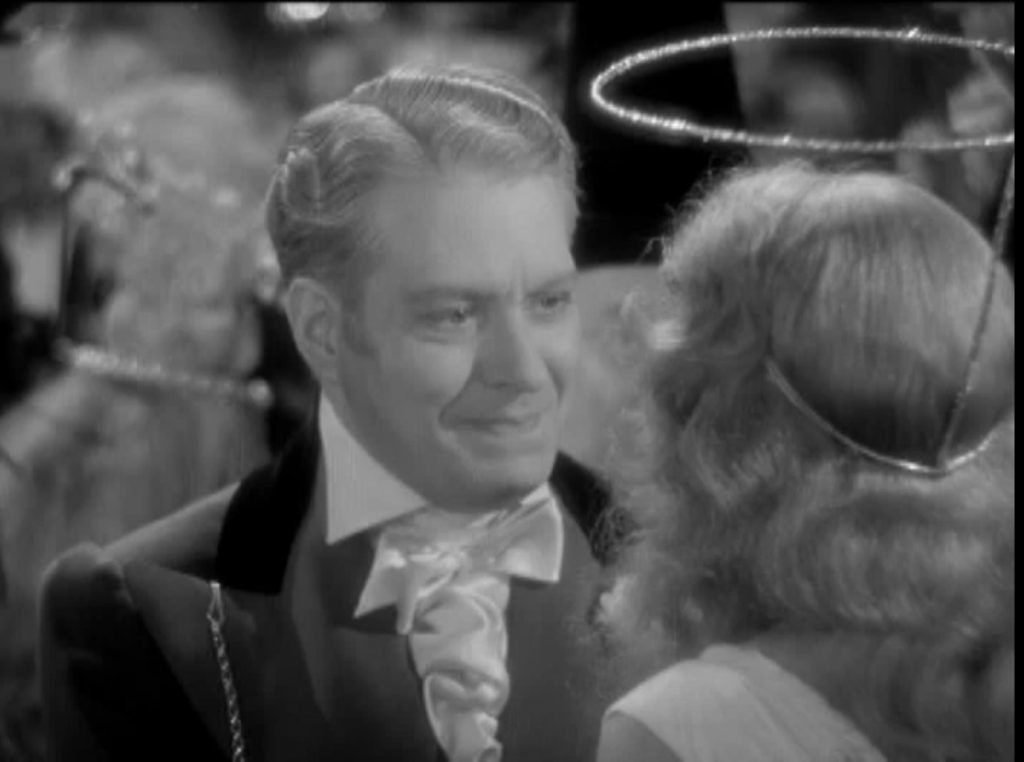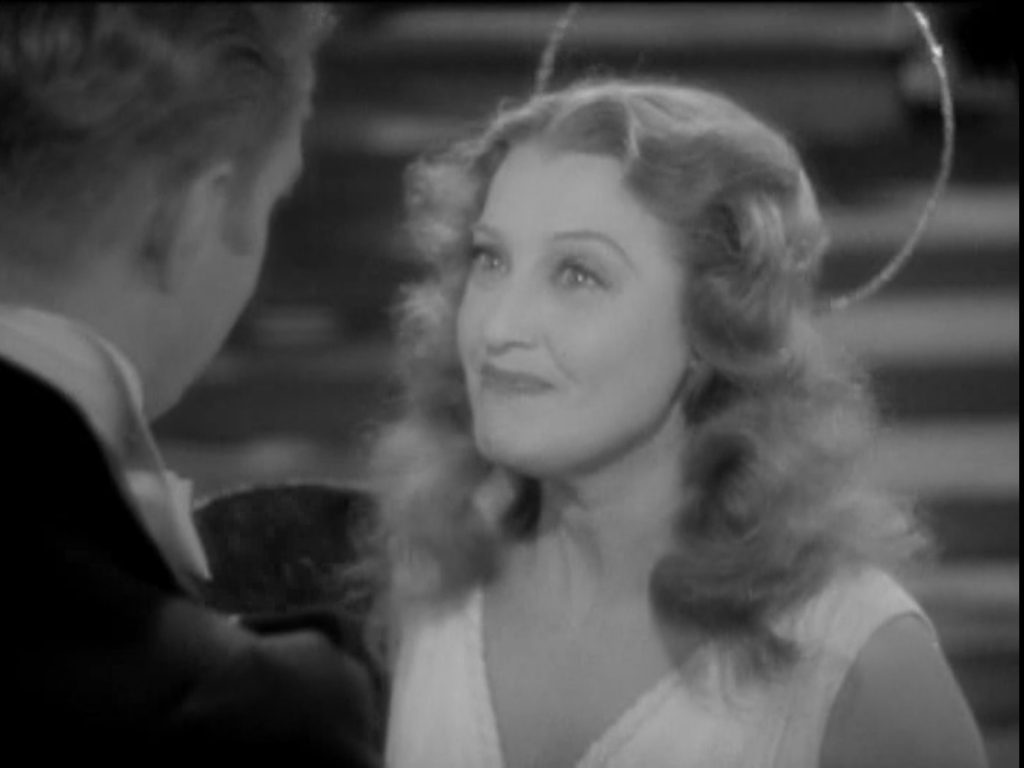 24:00: Nelson falls asleep on a couch in his office and dreams that a real angel comes to him, the kind of virtuous woman he's told he should marry. Over the next few minutes, as they walk around the room, we see featured another prominent piece of art, a sculpture of Nelson's version of "The Kiss" starring him and Jeanette as the models. This was said to have been a Christmas gift to Jeanette from him. Nelson often left his artwork at the studio; in fact, one of the busts of Nelson seen in this film was found in an old MGM storage unit decades later when the contents were sold as a lot, sight unseen.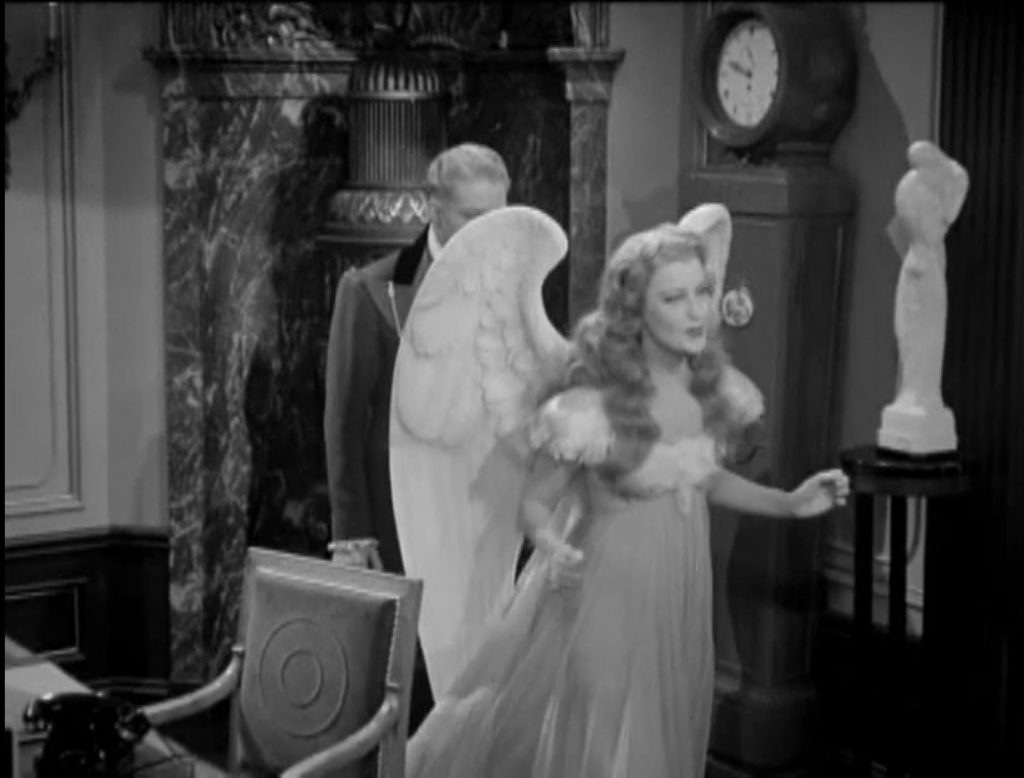 Originally, it was thought Nelson's "The Kiss" was sculpted for this film but as it was seen in an earlier film (not with Jeanette and Nelson), it's likely that it was a Christmas gift from 1939 rather than 1941. This makes more sense as, at that time, they were filming New Moon and Nelson was trying to woo Jeanette back after his marriage to Ann Franklin. There's documentation regarding Jeanette singing "One Kiss" to Nelson in that film and elsewhere; and by the end of 1939, they were indeed intimate again. Nelson sculpting such a meaningful piece for them and flaunting it on camera is totally typical of his personality and sense of humor.
27:00 To drive home even more the significance of that statue, the two of them talking right in front of it, it topples over and Nelson has to right it again. If you didn't notice it before, you surely will before this scene ends.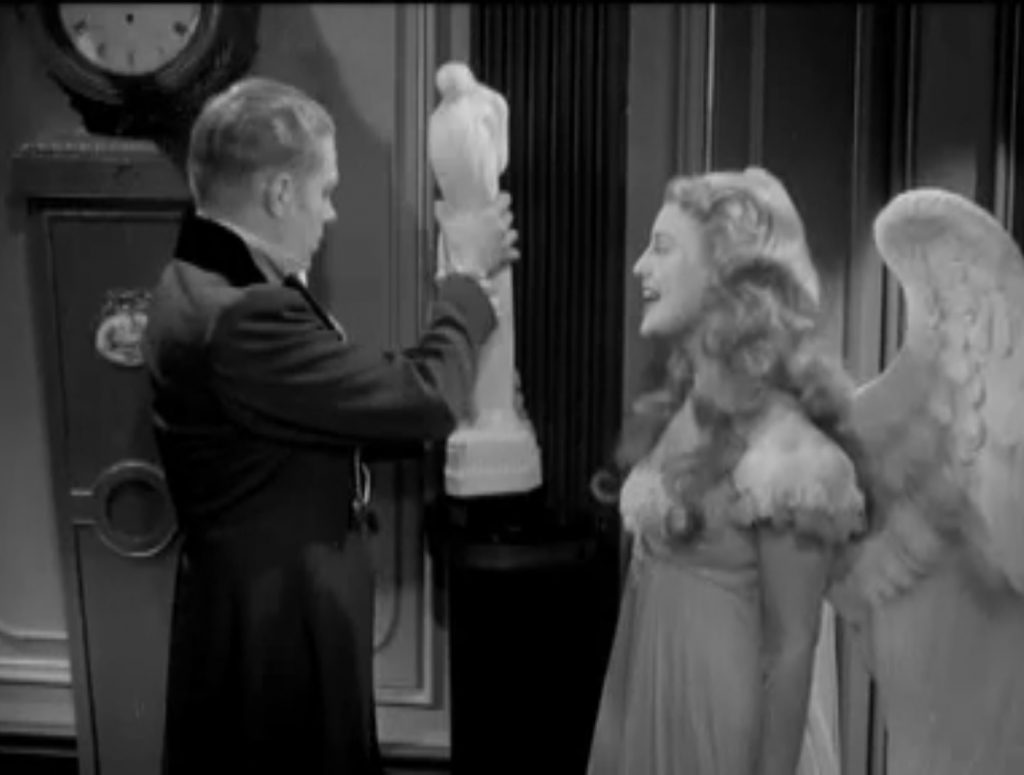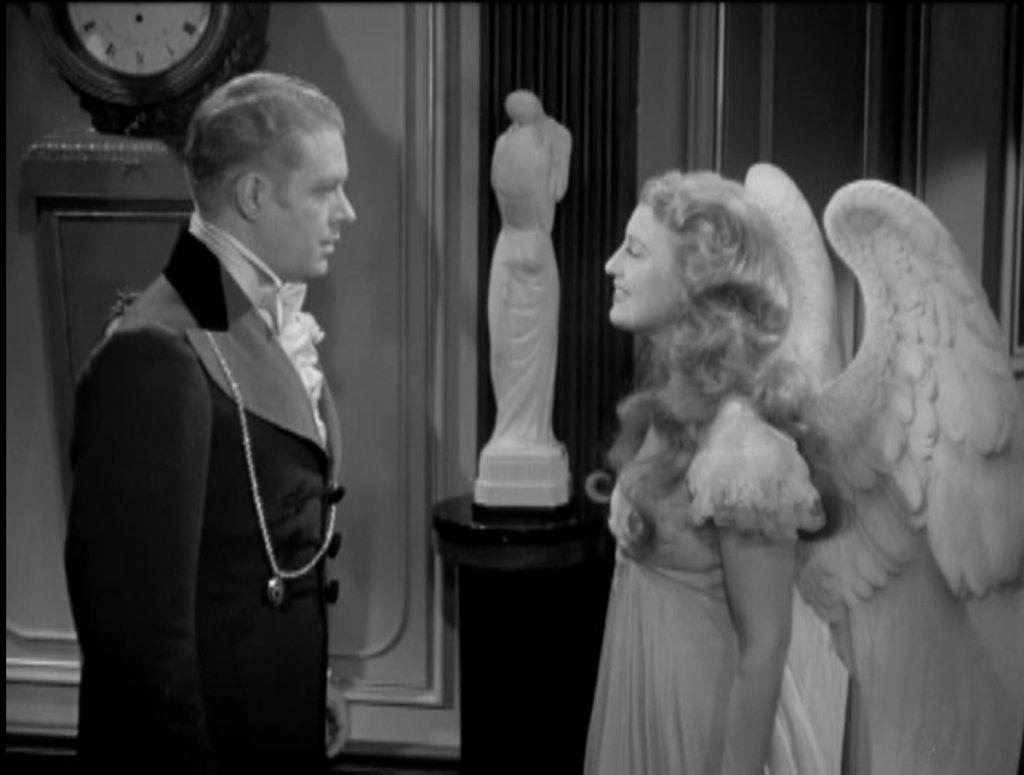 31:00: A kiss and then Nelson asks: "Are those wings of yours removable?" Thus began a problem for British censors, who would not allow Jeanette to wear her 40-pound wings. She couldn't be seen to be waking up the morning after her wedding night in the marital bed. Thus a different version, sans wings, was shot for the UK version. Note that the morning after, Nelson has to keep one foot on the floor to offset the censors after his character has spent a very earthly night with his angel wife.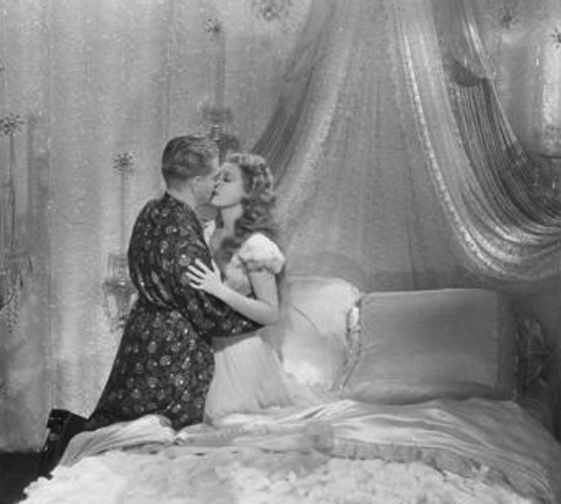 39:00 Note Nelson's heightened enthusiasm as, tightly gripping her hand, he loudly sings the title song. One has to wonder at his sudden energetic sincerity because up until just a few minutes earlier, his character was a fickle playboy. Perhaps he was now singing as himself, since "Angel" or "Angel Baby" are noted in letters as two of his endearments for Jeanette.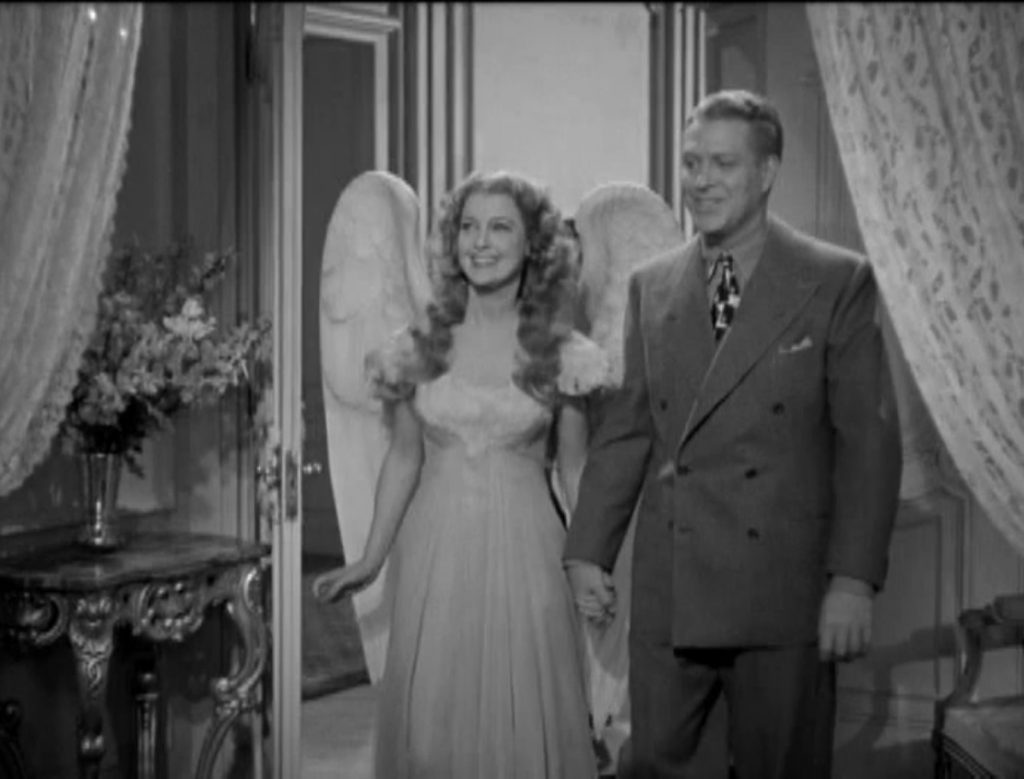 42:00 Jeanette has to have a fashion show of sorts, even a small one (this is black-and-white, after all). The story gets a little bizarre, reminding us it's a dream. Note the woman on the right side of the photo below. It's Rafaella Ottiano, uncredited here in her last film. You may remember her in a much larger role as Ellen in Maytime.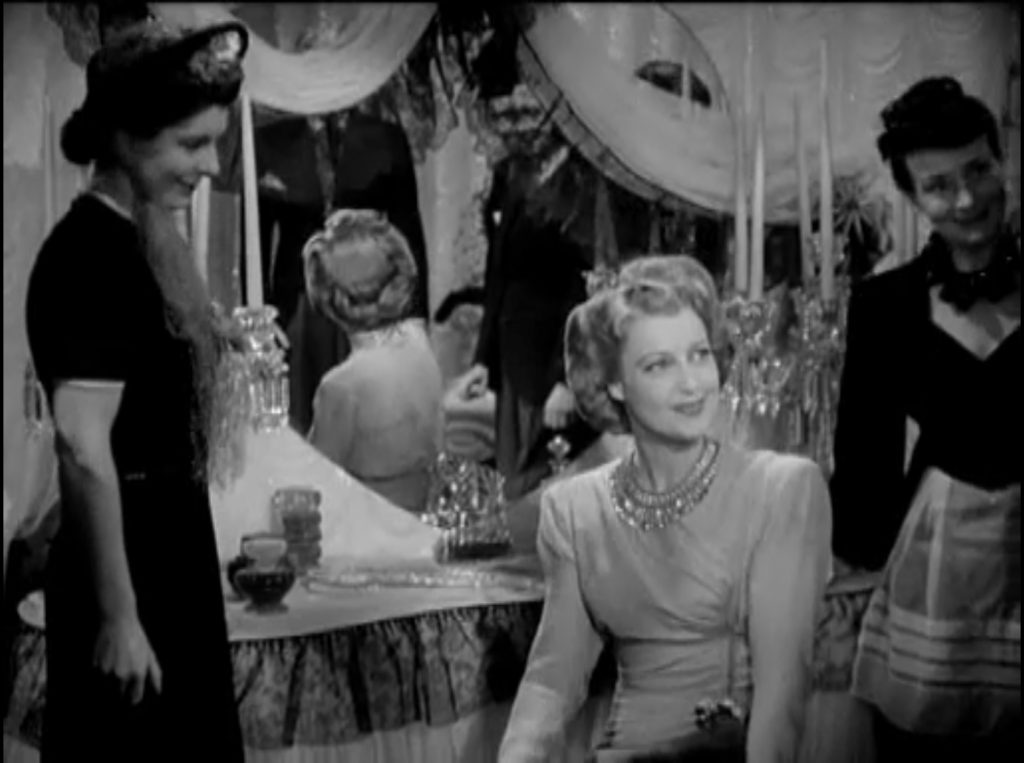 44:00 "Spring is Here" is sung as a duet, again with high energy from both of them.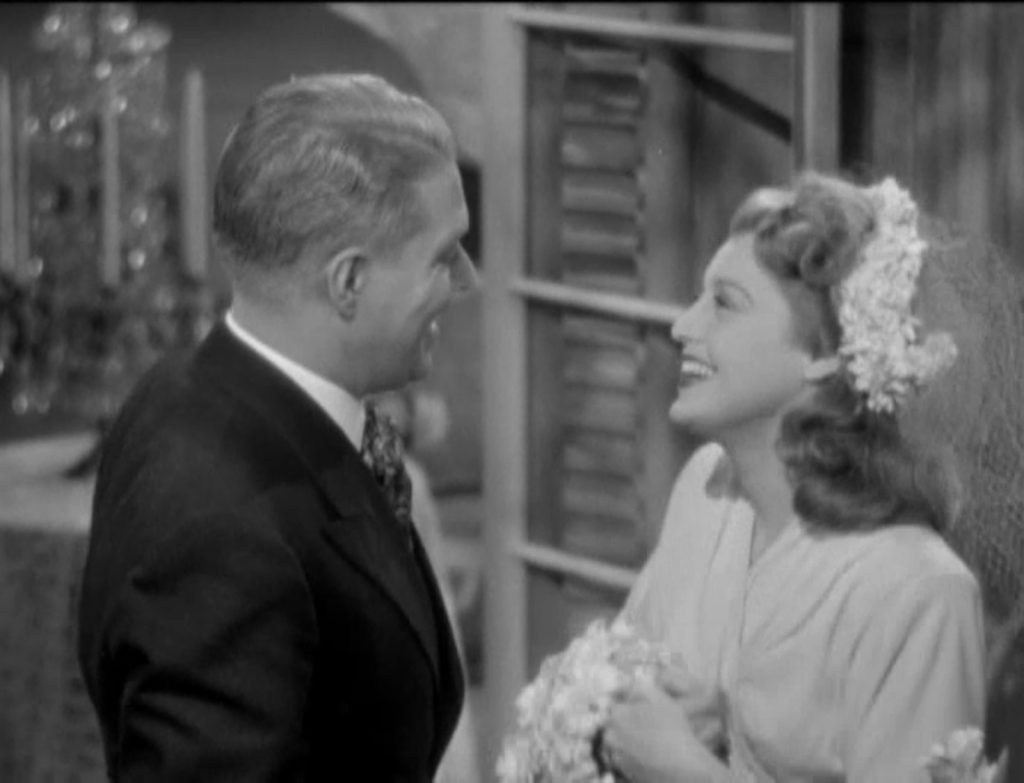 55:00: Jeanette has to learn how to be seductive so Binnie Barnes helps her "put a little twinkle" in her dancing.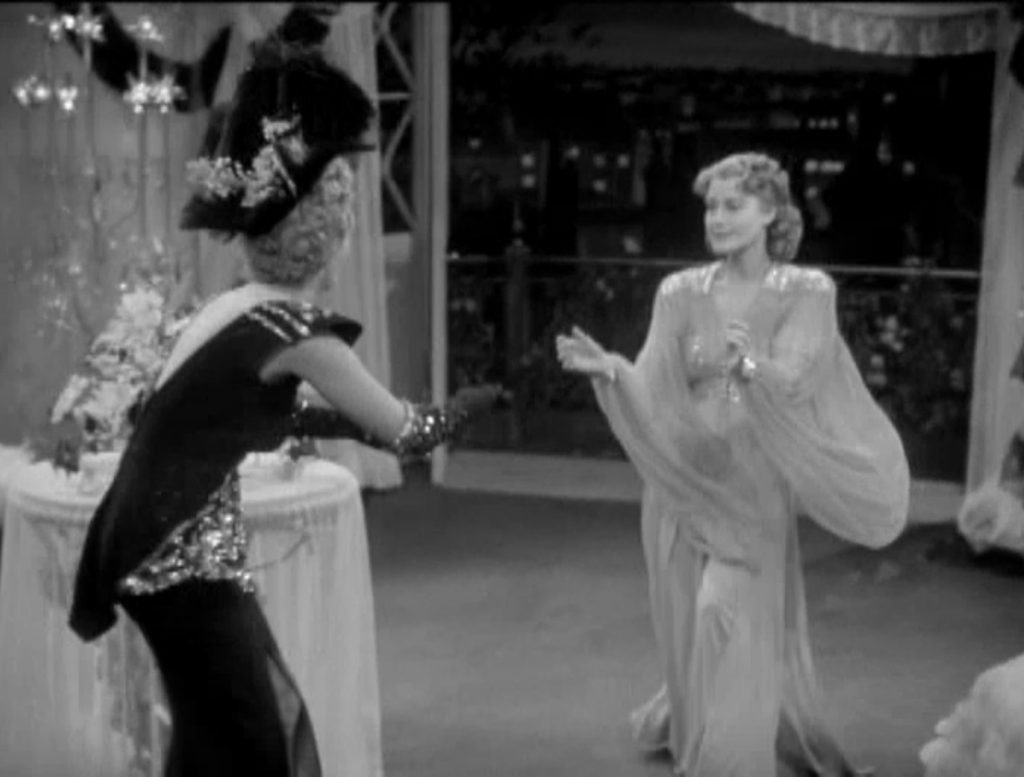 60:00 Jeanette becomes the fallen angel, seducing Douglas Dumbrille (who also played a villain in Naughty Marietta and The Firefly).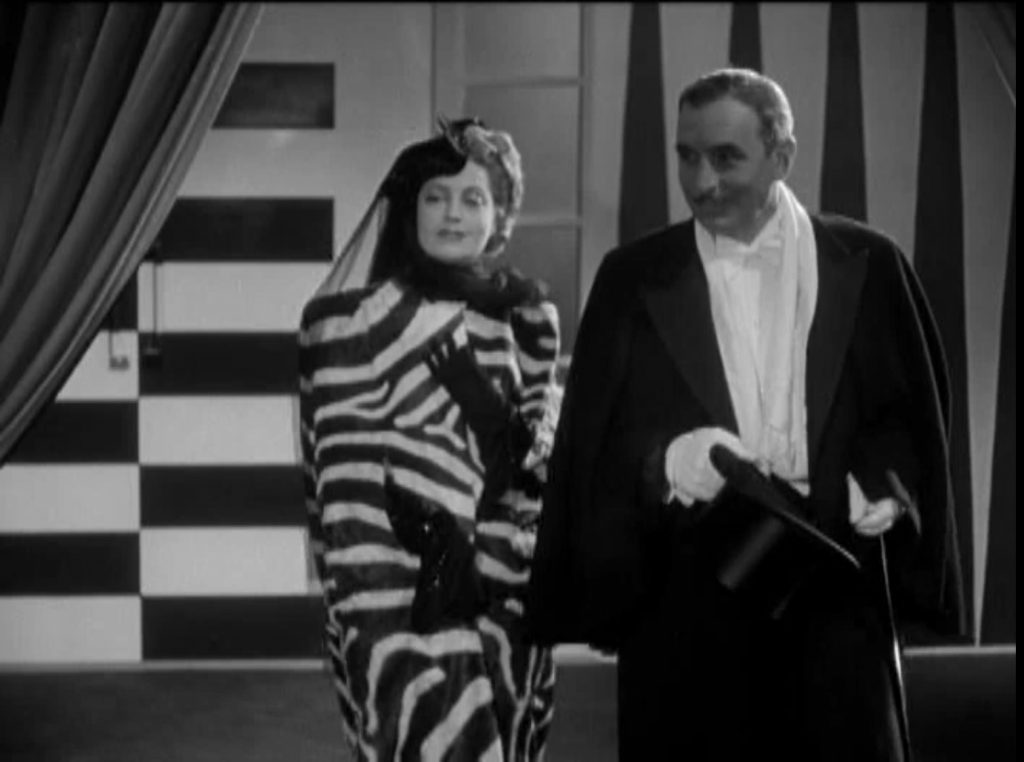 70.00 Nelson returns to his office; now there's a surreal montage in which Jeanette duets with Nelson from Carmen and then the Faust trio. Don't know about you, but they could have ended the story here and just let them sing glorious opera together!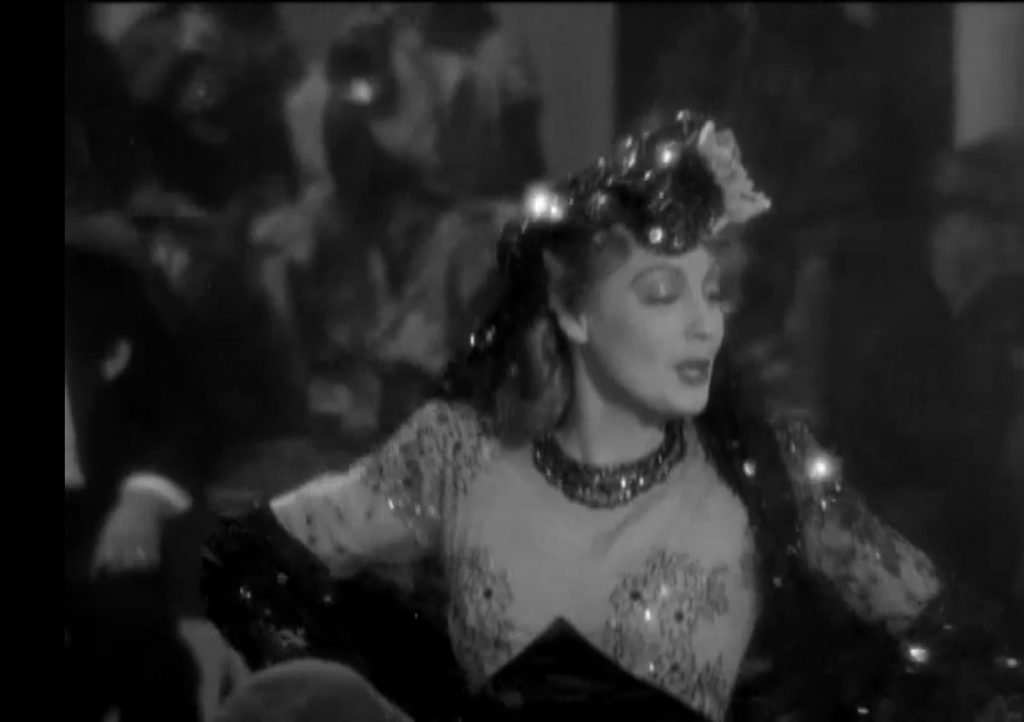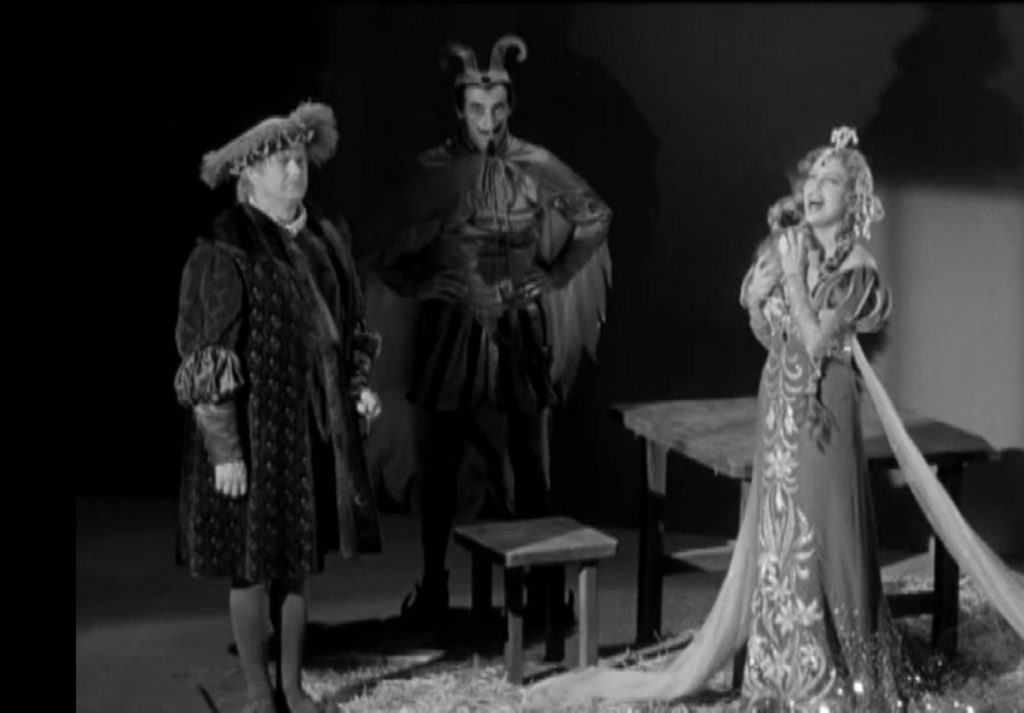 And then perhaps as a dig to Nelson – as he had a final falling out with Mayer before the end of filming and was ready to walk – Jeanette sings a Hawaiian number. Was it a reminder that Jeanette had  honeymooned there with Gene Raymond, and jilted Nelson hung up the telephone on her when she called him from the island? Anyway, a body double was used for some of the wild dancing shown from the rear.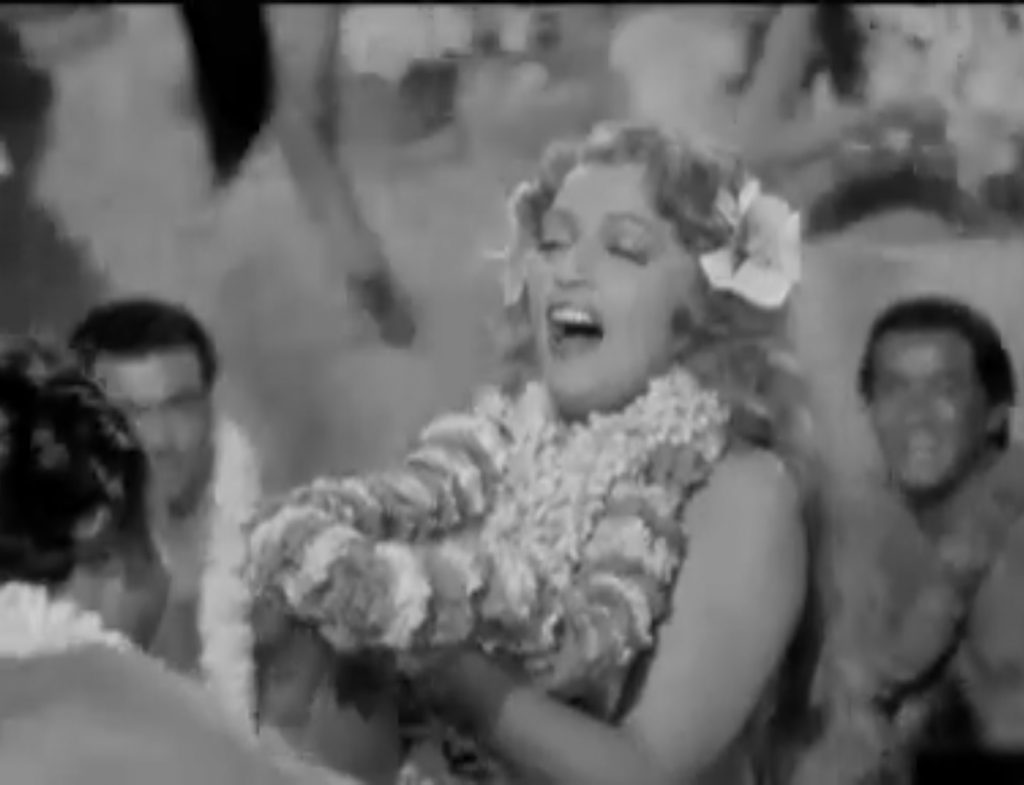 1:15 Nelson wakes up from his nightmare, realizes he loves Jeanette…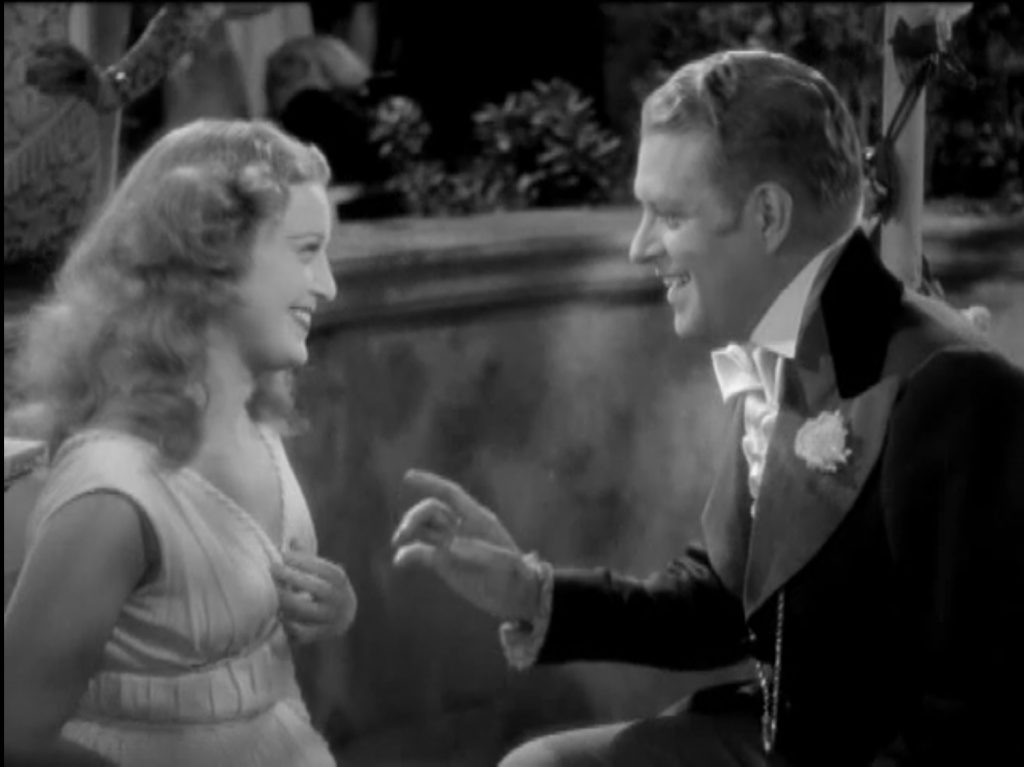 …and they sing their final duet. Jeanette in flat shoes looks very short next to him. Despite some head-scratching script decisions, their radiance and amazing chemistry shows through.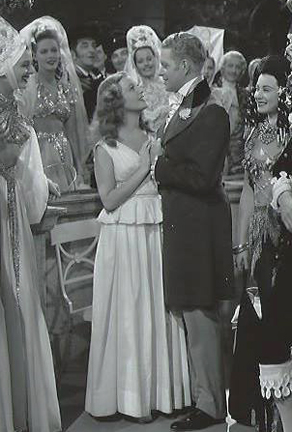 Pearl Harbor was bombed during the filming of Angel and their lives changed overnight. Each had one film left under their MGM contracts. Nelson bought out his and walked; Jeanette remained to make one last film with Woody. Some years later, Mayer was willing to bring Jeanette back to MGM… but not Nelson. And that, dear readers, was a darned shame.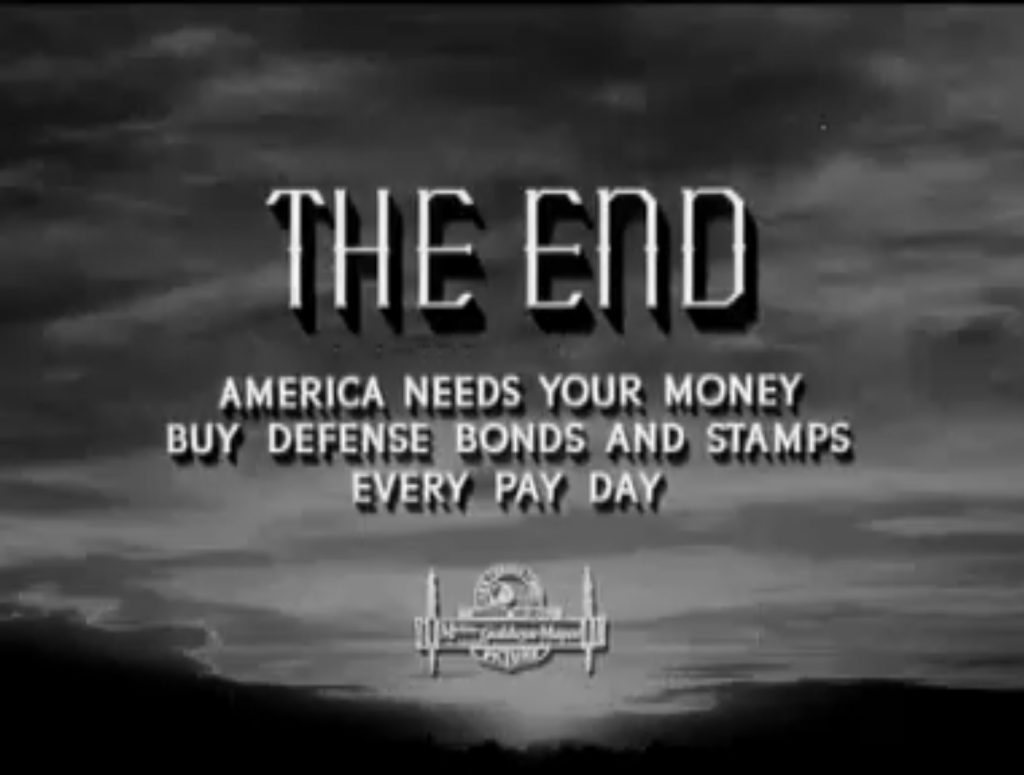 © 2021 by Sharon Rich, all rights reserved. Much of the documentation here is sourced from Sweethearts (© 1994, 2001, 2014 by Sharon Rich) also available at Amazon as a Kindle or softcover.