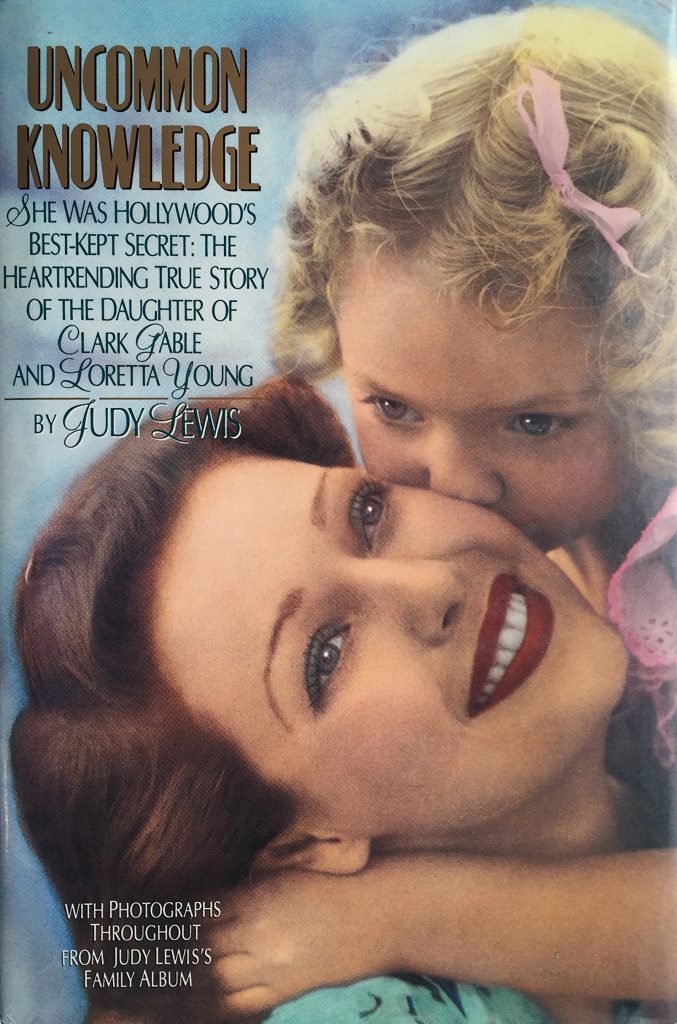 Some time after Sweethearts was published in 1994, I did a joint book signing with Judy Lewis, the illegitimate daughter of Loretta Young and Clark Gable, at the Beverly Hills Woman's Club. Her story was poignantly told in her autobiography, Uncommon Knowledge. In a nutshell, this is Judy's story as noted in Publisher's Weekly, ©1994:
Born in 1935, Lewis was a mother herself when she learned what her friends and acquaintances already knew–that she was the offspring of a single mother and a married father. Her parents were Loretta Young and Clark Gable. Young, fearing that her daughter's birth would ruin two movie careers, staged an adoption to cover up what she regarded as her most grievous mortal sin. In this absorbing memoir Lewis writes without self-pity of her unfulfilled relationship with both parents; she met Gable only once, when she was 15; her account of that event is the book's most poignant scene, because she was unaware that he was her father. She is frank about her mother's "imperfections and sometimes difficult personality," a gentle way of characterizing Young, whom she shows to be humorless and narcissistic and whose career was second only to her Catholic faith in importance. When Lewis launched her own acting career on Broadway in the '50s soaps, her mother disapproved. Their increasingly strained relationship ruptured in 1966 when Young refused to attend her granddaughter's wedding. "It all came pouring out–all the years of hurt and abandonment, all the feelings of not belonging, of being an outsider in my own family."

We chatted for about an hour before the book talks and signing started. Judy told me she had learned it was her mother's wish that Gable not be a part of her life, not his. And that he did actually peek in on Judy as a toddler but not when she was old enough to know or remember him. Also, there's no way Gable, as the Hunk of Hollywood, would have been allowed to acknowledge a daughter. Didn't fit with the screen image. Below, Loretta and Clark in Call of the Wild, 1935, when Loretta became pregnant. They were on location and it wasn't unusual for co-star liaisons; Gable once quipped that Jeanette MacDonald "was the only co-star I didn't even try to get into bed with."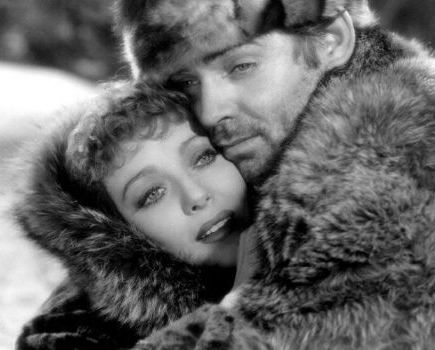 Judy Lewis was a curious mix of both her parents in looks. She had her mother's delicate features but her ears (even pinned back) and the wide cheekbones especially when she smiled were all Gable. At one point I said to her, "How did you look in the mirror every day and not see Clark Gable looking back at you." Her answer: she asked her mom about the rumors and Loretta told her Gable was not her father. Of course she believed her mother. Below, Judy and Loretta.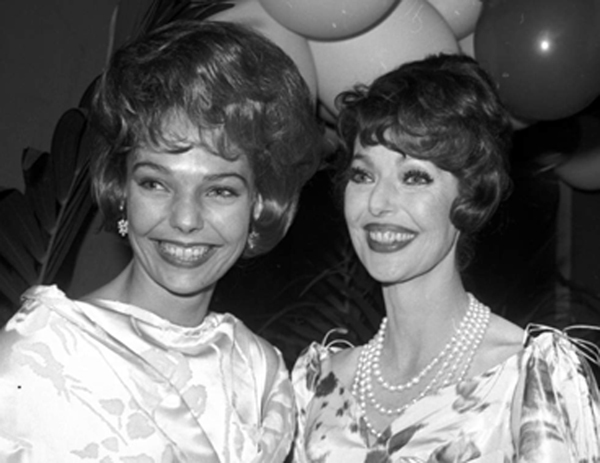 Judy displayed a total lack of bitterness over her circumstances. After all, Loretta could have simply left her at an orphanage to be adopted by someone else, or given her to another family to raise as their own, which apparently was not that unusual in Hollywood. Instead, she went through an elaborate scenario of having the baby at home; putting her into an orphanage where later she stated she would adopt two children; then "changed her mind" and chose only Judy.

Loretta would later claim it was date rape with Gable, according to her family after Judy's death. Perhaps that is true or perhaps it was to lessen her own guilt or gain sympathy. It would seem unlikely as cooped up together on location, an on-set romance was a common occurrence. Loretta had a history of romances with co-stars, most notably the with the very married Spencer Tracy. In 1949, Loretta and Gable co-starred again in Keys of the Kingdom and from this candid photo taken on the first day of shooting, Gable displays a warmth not always seen with other co-stars. There's an intimacy there although Loretta's body language seems more reticent.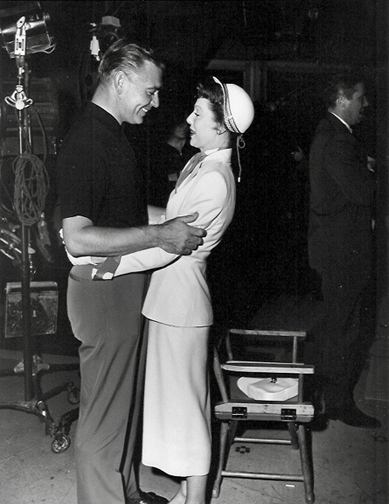 The photo above floats around the 'net but I want to acknowledge Ron Wolf who posted a high definition shot of it, noting that the original caption reads: "Old friends for years, this is how the stars greeted each other their first day on the set of Key to the City." Right. Translation: everyone in town knew the score, as Judy Lewis finally learned.
While we don't have firsthand knowledge of Gable's reaction to the way his daughter was raised, we can understand that Gable's career (as well as Loretta's) depended on towing the line with morality clauses in studio contracts. Basically, "disreputable" behavior of various types were grounds for dismissal or blacklisting. This also meant, marrying, divorcing or having children without studio permission.
A curious note to this story is Nelson Eddy's reaction when, almost three years later, he found himself in the same position as Gable. Early in 1938, Jeanette MacDonald became pregnant, a secret they kept successfully while Nelson was touring, until returning to Hollywood to film Sweethearts. Nelson was vehemently opposed to having his child raised as another man's and struggled against the studio to get his way. This meant finding a quick way for Jeanette to divorce Gene Raymond and marry him. All those plans went awry but Nelson's frantic efforts to take control of his private life would indicate his awareness that even Clark Gable had no say in what had happened to his child. (Ultimately, Jeanette was apparently unable to carry a baby to term. The photo below was taken of heavily girdled Jeanette on July 16, a few days before she lost her baby.)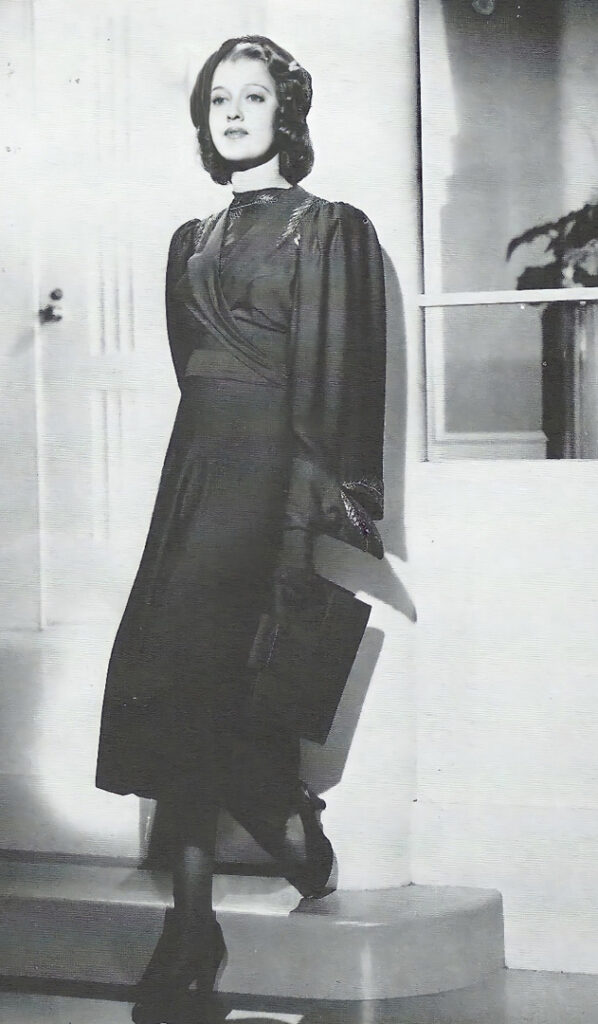 It should be remembered that Nelson and Clark Gable were friends. Nelson's first film role in 1933 was singing one number in Gable's Dancing Lady. Gable was amused at how serious and stuffy Nelson was and took it upon himself to loosen him up. This meant introducing Nelson to the best brothels in town and going on drinking binges together. Nelson later told of one of the first parties he attended which sounds very much like a wrap party for Dancing Lady. There was wild hooking up going on and Joan Crawford danced naked on a table. Welcome to Hollywood, Nelson! Gable later came to admire Nelson for standing up to LB Mayer on several occasions but their friendship didn't extend beyond the war and Nelson's MGM years.
These scenarios with hidden babies had been going on since early Hollywood days. I know of another movie icon who, according to a private detective I hired for some research of Gene Raymond's arrest in the UK during WWII (see below).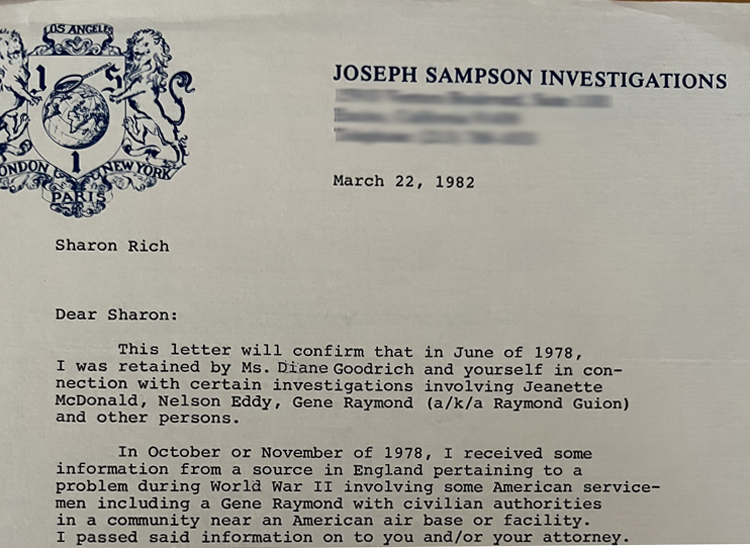 This detective mentioned to me that another Hollywood icon had a secret daughter that was given to someone else to raise. You would all know who this person is. I asked whether the daughter had inherited the voice. The answer was yes. Did she look like her mother? No, she resembled her father. This woman lived in the LA area, was very low key and had no interest in going public, only wanted to verify for herself what her adoptive parents had told her. And did you prove it, I asked? Yes, he replied. I've never researched further on this but one has to wonder whether the half-siblings were made aware and what, if any relationship, they had with this woman.
Then there's Patricia Lake, pictured below, the illegitimate daughter of single actress Marion Davies and married media mogul William Randolph Hearst. Patricia was born in France and raised as her aunt's daughter. One can only imagine the heartache of Davies, who became an alcoholic and saw her movie career fade. Davies remained Hearst's companion till his death. So much was made of her personality later on when Orson Welles released Citizen Kane, who repeatedly denied that the character of "Susan Alexander" in that film was based on Davies. With all the back and forth over the years, it's telling that never once did a tangible reason for Davies' personal heartache come up. Davies helped support Patricia in her lifetime and left half of her $20 million estate to her. Still, it wasn't until Patricia Lake was almost on her deathbed that she verified her parentage. She and her husband, actor Arthur Lake, are interred in the same crypt as Marion Davies.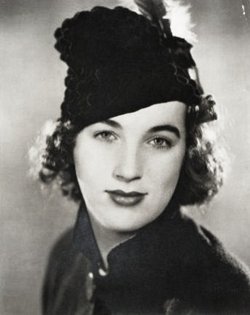 There were also those married Hollywood men who had children with non-actresses, for example, Leslie Howard. This distinguished British actor became a sex symbol after starring as Ashley Wilkes in Gone With the Wind. Married but a known womanizer, he was the father of Walter Matthau's future wife as revealed on the Matthau family website: "[Carol Grace Matthau] was born in the Lower East Side of Manhattan to the sixteen-year-old daughter of Russian-Jewish immigrants, and an unknown father. Later, her mother Rosheen Marcus identified him as British actor Leslie Howard, from "Gone with the Wind". She was eventually placed in foster care until the age of eight when her mother married Charles Marcus, the head of the Bendix Aviation Corp., whose name she took."
Hollywood has always been a town of secrets. Movie stars are expected to live up to their idealized images. When they don't, careers and lives can tumble. Perhaps the best known case is Ingrid Bergman when, having just played a nun in Bells of St. Mary's and Joan of Arc, had the audacity to hook up with Roberto Rossellini and have a son with him when both were then married to others. Ingrid was booted out the United States as though found guilty by a tribunal of being a Communist traitor to the free world. She was blacklisted in Hollywood for six years.
When Deanna Durbin passed some years back, I remembered a statement told to me by a nurse regarding a comment by Deanna's father. He said that Joseph Cotten was the birth father of Deanna's first child. I did some research and learned that Deanna indeed had a shotgun second marriage to Felix Jackson, the much older producer and screenwriter of some of her films. Daughter Jessica was born seven and a half months later. Deanna and Felix separated soon after and after a suitable time, divorced. Looking at baby pictures of Jessica, she had bee stung lips and ears that certainly resembled those of Joseph Cotten. I wrote an extensive article with several photos on this time period in Deanna's life and noted also that sadly, in adulthood, Jessica became estranged from her mother. No reason was given but this reaction seemed awfully similar to what Judy Lewis experienced when she learned the truth of her birth.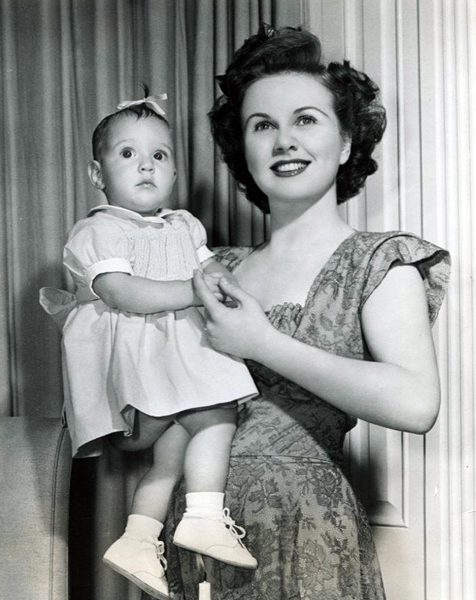 I find it telling that when Loretta Young finally had to tell her daughter all the details, she became physically ill to the point of vomiting. Judy Lewis described to me that the lie was so ingrained in her mother that she could barely bring herself to 'fess up to the "awful" truth. Some may call Loretta a hypocrite but who knows how any of us would react in such a situation as she found herself in 1935? Many other actresses would have had an abortion. Also, there seems to be no documentation as to Clark Gable's feelings in this entire matter. Did he peek in on his daughter in her early years, on the sly? Did he want to be some peripheral part of her life? Did Loretta answer these questions honestly when Judy asked.
When one has an angelic screen image, it's all the more difficult to out yourself as a real person with real life struggles. Those who have followed the Jeanette-Nelson story know that she spent about ten years trying to write an acceptable autobiography and finally gave up. It started all wonderful, filled with interesting anecdotes until coming to the subject of Nelson Eddy. She admitted dating him early on and then boom, his story line vanished. In fact, the years that people cared about most almost vanished. On one typewritten page, she crossed out a paragraph in which discussed her pain at not having a baby. In a later interview she admitted to many sleepless nights and crying over herself and her life, and that it wasn't very healthy to do so.
Judy Lewis and I had a few phone conversations after our joint book signing. After some time passed, when the dust had settled regarding the revelations in her book, she told me the only sadness she had was that her half-brother didn't want any relationship with her. She'd hoped to find a friend in him but it was not to be.
©2021 by Sharon Rich. All rights reserved.