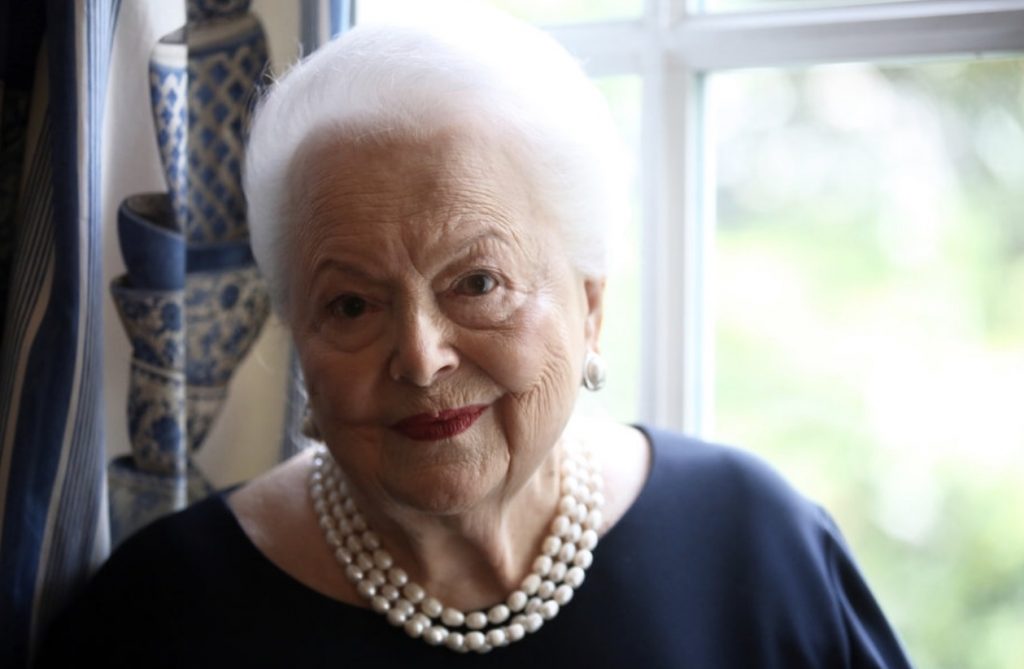 This week marked a landmark ruling when a California appeals court threw out the lawsuit brought by beloved Hollywood icon Olivia De Havilland (pictured above, aged 101) over the way she was portrayed in the FX mini-series "Feud: Bette and Joan." That very successful show, created by Ryan Murphy, aired in 2017 and was nominated for several awards.
These days, I tend to watch any bio-pic (whether film or TV series) carefully, to see what works and what can be learned in the approach of telling Hollywood history. I watched most episodes with my mother and because of being very familiar with the back stories of both Bette Davis and Joan Crawford, I'm sure I annoyed Mom by pointing out continually which lines of dialogue were actual real-life quotes and which incidents were well-documented as truth.
I did have a chance to meet and speak with Bette Davis (duly interviewing her about MacDonald and Eddy) but never met Joan Crawford. The closest I got was when, while crossing Hollywood Blvd, someone yelled that Crawford was ahead of me in the crosswalk. I hurried forward but she had already gone. Still, when the "Mommie Dearest"  outrage was at its peak, I made my decision about what to believe after seeing Helen Hayes frankly discussing in a TV interview what she personally had observed in the Crawford household.
I enjoyed "Feud"; the actors were spot on and such a project brings back into the public eye the marvelous forces of power that were Davis and Crawford. They are "new" again and viewers could debate and argue enthusiastically about who was the bigger and better star. There is still nothing like the Hollywood of yore and the mystique of the great stars of its Golden Years. Like medieval Britain and other select times in history, there is great affection, nostalgia and fascination with that time period.
My personal favorite episode of "Feud" dealt with the 1962 Oscars. It portrayed all of Crawford's deviousness and yet one felt compassion for her desperation in life. Her actions, however, were so outrageous that one can only shake one's head and say, "Only in Hollywood…" which is probably one reason movie buffs today still revel in the audacity of both Crawford and Davis.
I have known or interviewed many old-time Hollywood people; stars, directors, character actors, crew members, etc. Some I met at the very end of their lives while they lived at the Motion Picture Home. It's often hard to keep your dignity when the years and health issues creep up on you. Some I met well-adjusted folks who learned to cope with post-Hollywood life: Jeanette MacDonald's sister Blossom, for example; or Larry Fine who – despite a stroke – had a poker game going non-stop with a group of pals (often Moe Howard) filled with laughter, drinking, smoking and cracking jokes a mile a minute. Others, like silent star Betty Blythe, lived in the past. With early dementia, she would often talk to me as though it was 1925 and she was currently filming in Germany. She physically carried herself as a star, spoke in the somewhat affected tones of a Big Star (ie, Norma Desmond-like); showed me her prized possessions such as a sculpture given to her by Rudolph Valentino (which was later stolen from her room). Still other stars like Norma Shearer had no memory left, really, and her eyesight was gone. I saw her taking short walks on the Home's grounds with an attendant at her side. Watching her from a distance, with her long white hair, her beautiful profile was still recognizable. One time someone came up to her to speak with her and I watched as she graciously offered her hand, those mannerisms as a movie queen were still ingrained in her.
I think we all cherish Olivia De Havilland because of her age – the last living movie queen of Hollywood's great era; also because she is the last major survivor from "Gone With the Wind"; and because she picked up and walked away from the Hollywood madness to find a life after the studio era. She didn't self-destruct or have a sad ending to her life.
There is a challenge in bringing a true story to life on film in a non-documentary way. In sitting down and discussing the Jeanette MacDonald-Nelson Eddy romance with my screenwriter friend Judy Burns some years back, I cringed at being told that two subsequent vital events occurring at Nelson Eddy's home could not, in a film, be shown to have happened in the same location. It wasn't cinematic and it was boring. The second event needed to be included but placed elsewhere, such as Santa Monica Beach where they frequently took walks. No, I argued, anyone who has read Sweethearts will know that this really happened at Nelson's house! As a purist, I protested. Now I do understand the need to work within the medium of film and the rules that bring a movie to life. Something that takes two pages of careful description in a biography can be easily handled with an actor's quick glance in a film; they are separate communication channels, each with their own strengths and emphasis.
Miss De Havilland is obviously upset at the outcome of her lawsuit and I'm sure I join many others in wishing her many more years of health and happiness. But I'm still glad that the Bette Davis-Joan Crawford feud was featured for new audiences to discover and existing fans to enjoy.